BERNDORF TRAINING CENTER SEA
Contact with us through our representative or submit a business inquiry online.
Berndorf Training Center South East Asia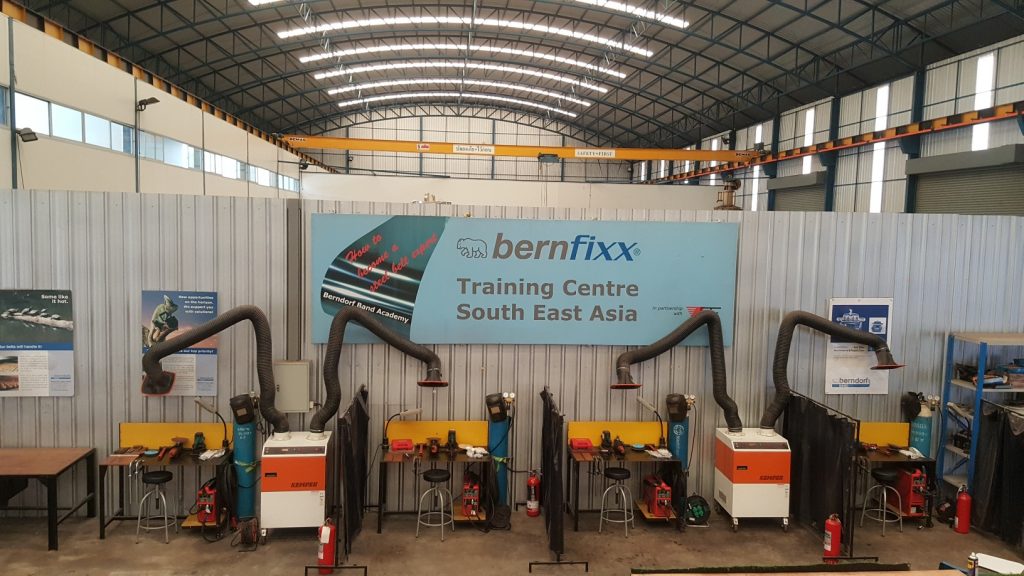 Located at Amphoe Nikhom Phatthana, Rayong Province , Thailand, about 1.30 hours  from the International Airport in Bangkok, this training and seminar facility offers a wide range of opportunities to attain a better understanding of and more knowledge about steel belts. The main focus of this centre is, of course, the training of professional repair methods to personnel from all types of steel belt users. Next to that also tailor-made seminars & workshops will be held in future – although not bound to the location
Steel belt knowledge for our customers
Berndorf Band service engineers work all over the world, and it goes without saying that we ensure that they all receive regular training with the latest working methods and equipment.
We are always pleased to pass on our training experience to our customers! In the Berndorf training centres in Berndorf, Austria and in Chonburi, Thailand , our customers' engineers receive practical training under realistic conditions.
The main focus lies on training of professional repair methods for all types of steel belts. According to the requirements we conduct general or individual seminars . Each engineer receives a certificate confirming completion of this training.
Training for in-house maintenance engineers pays off from the very first repair they carry out, since downtime is minimized and any possible negative impact on the quality of the final product is avoided thanks to on-the-spot repair . Added to this is the fact that in-house engineers can be highly motivated by their improved skills and greater responsibility for repair work .
Bernfixx Training Sessions:
Between 3 to 5 days (or to be agreed)
Basic, Advanced & Special Training Sessions
Focussed for one company
Training performed on same steel belt material like at customer's site (apart shotpeening).
Certified trainers from Berndorf Band / Austria Performance Certificate.
Your benefits
Flexible planning of repairs
Optimization of cost
Minimized production shutdown times
Hands-on acquisition of expert knowledge
Global availability
Personalized customer seminars