CUTTING SOLUTIONS FOR SLITTING AND CUT TO LENGTH
Contact with us through our representative or submit a business inquiry online.
Products and Cutting Solutions for Slitting and cut to Length Systems
Circular Products
Circular products such as rotary slitter knives, strippers, spacers, etc., are used in slitting lines for cutting  and slitting the greatest variety of materials. Dimensions, materials, hardness and rubber coating all depend  on the material to be cut.  The precision of the tool with regard to the thickness tolerance, the flatness, parallelism, surface finish on the  one hand, and the properties of the material processed, the arbor set up, the configuration parameters of  the slitting line on the other hand, as well as, of course, the machine operators, are all crucial factors in the  quality of the cutting results
Straight Products
Scrap chopper knives, used for the shredding of the waste strips caused by trimming, are subjected to very high mechanical stress. As a rule, the strips or bands are cut to length by the cut-to-length system with cut-to-length knives as an operation following slitting. Guillotine shear blades are used on systems of all reputable manufacturers either in the standard versions or in customized form.
Customer Groups
Integrated Steel Mills
Non-Ferrous Metal Processors
Cold Rolling Mills
Steel Service Centers
Pipe and Tube Mills
Transformer Band Manufacturers
Surface Profiling Companies
Packaging Tape Manufacturers
Metal Packaging Companies
Steel Grating Manufacturers
Mechanical Engineering Companies
Advantages / Characteristics
Adherence to the smallest possible thickness tolerance down to ± 0.0005 mm
Subdivision of thickness tolerance in 3 areas (–, 0, +)
4 highly precise surface finishes
Suitable for sheet metal thicknesses from 0.006 to approximately 16 mm and in exceptional cases also to 40 mm
Rotary slitter knives ground with a single-sided facet and an exact edge
Stripper rings assist cutting applications for various tasks:
Ejecting
Conveying
Lifting (protecting the material surface)
Supporting (stabilizing the material)
Rubber Bonded Stripper Rings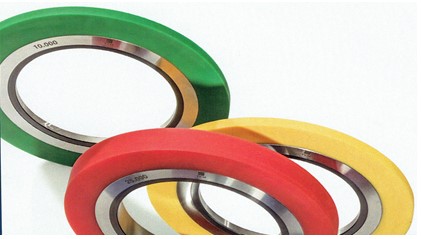 Advantages / Characteristics
Graduated in thickness from 3 to 100 mm (in exceptional cases up to 250 mm)
Hardness 60 to 95 Shore A
Different colors
Special dimensions of steel cores for trimming systems
Divided spacers
Special weight saving models
Excellent oil and abrasion resistance
Highly resistant to cleaning alcohol
High precision with thickness tolerances up To +,-0.0005 mm
Steel stripper rings made of hardened alloyedtool steel are used for thin materials and thenarrowest strips, provided the design of theslitting line permits such use.
Polyurethane-bonded steel stripper rings canbe delivered as a special version for cuttingsensitive material.
Advantages / Characteristics
Graduated in thickness from 0.1 to 100 mm (in exceptional cases up to 250 mm)
Lateral surfaces are lapped, ground and polished
Burnished
Special edge dimensions
High precision with thickness tolerances up to +,-0005 mm
Special feed and ejector rings
Advantages / Characteristics
High precision with thickness tolerances up to +,-0005 mm
Tool steel or stainless steel quality
Utilization of ergonomic advantages
TKM has a large range of special design spacers – either divided or as hinged rings.
Advantages / Characteristics
Divided spacers for subsequent knife clearance corrections
Quick changing of special gauge spacers
Plastic foils in various colors and in predefinedmaterial thicknesses as plastic shimsfacilitate adjustment of the knife clearance.
The following parts ensure clean separation and guidance of the cut material strips and
smooth winding of the strips onto the recoiler of the slitting line:
Separator discs made of chrome alloy tool steel
Separator spacer rings made of polyamide
Special versions in steel/aluminum with polyurethane coating
The most efficient and reliable solution isshredding or chopping of the waste strips withscrap chopper knives made of high qualityalloy tool steel.
A number of different dimensions – also withspiral sharpening – are available.
Advantages / Characteristics
The TKM guide system maintains the narrowest knife clearance
Repeat accuracy of the strip widths
Minimized set-up times
Our clamping system guarantees the smallest possible axial run-out
Cut to Length Knives / Guillotine Shear Blades
For cut-to-length lines and for guillotine  shears, we produce highly precise knives and shear blades with a length of up to 6000 mm. Production, including heat treatment, is completely in-house. We accordingly guarantee consistently high quality of the knives and shears with the best microstructure and the best mechanical properties. Depending on the requirements, either special tool steel or a special nickel-based alloy is used. In particular, we can handle, as a single source, system-related requirements as well as specific manufacturing processes at the customer's end, thanks to our in-house  production depth.
Advantages / Characteristics
Knife material and heat treatment are keyed to the material to be cut
Cross, radial and peripheral grinding possible
Highest accuracies maintained
Ground radii for V-shape blades
Blades for all guillotine shear types